Percy Pud 10km : 2004 Race Report
Sunday 5th December 2004
Two international athletes dominated the 12th New Balance Percy Pud 10km road race organised by Steel City Striders. Australian marathon runner Phil Sly won the men's race in 30 minutes 33 seconds and G.B Commonwealth Games marathon finalist Debbie Robinson was the fastest women finishing in 33 minutes 53 seconds just 10 seconds outside her own course record set in 2002. At half way Sly had established a 10 seconds lead over Rotherham's Andrew Akad but showed his international class over the last 5km to finish a full minute ahead. Gerry O'Neil from Menai was third."I thoroughly enjoyed the race and was surprised by the stunning scenery," said Sly, whose Yorkshire family was there to cheer him on. "It will do my changes of breaking 2 hours 12 minutes in next year's London marathon no harm at all."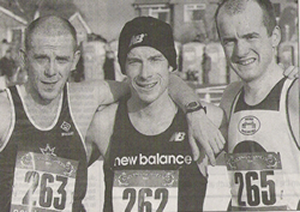 First three men in the 2004 race:
winner Phil Sly (centre) , Andrew Aked and Gerry O'Neill
In the ladies race Robinson showed that she is back in form winning by an incredible five minutes from Fiona Davies. Sheffield's Joanna Seymour was third.
"I am hoping to use the London marathon in April to gain the time needed to qualify for the World Championships next summer and the Commonwealth Games in 2006," said Robinson.
Further down the field Sports Minster and Sheffield M.P. Richard Caborn, who finished the race in 52 minutes 45 seconds, was also using the race as a warm up for next year's London marathon when he will be raising money for the Ron Pickering Foundation which helps underprivileged children to achieve their athletic potential.
"I have completed this race for several years now and it still remains my favourite event. The fine was weather, the course superb, the organisation efficient and the reception as friendly as ever," said the Minister.
Other notable performances amongst the 1000 competitors came from the two oldest runners on the day. Strider Jean Locking, aged 70, finished in 55 minutes 51 seconds, and 76 year old Jack Englert who beat hundreds of runners less than half his age to finish in 51 minutes 40 seconds. Striders Mick Savage (3rd vet O/40) and John Kerr (1st vet O/55) both featured in the prizes.